I love dogs. Well, good pets… cats have not been horrible. But dogs are the best. After my Tom-Dog passed on a year ago Mom & Bob got Maggie and she is a good girl. They have another dog named Sam who is 14 and still full of energy – relatively speaking.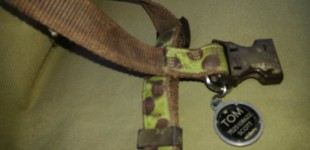 Yesterday I was fixing the back seat in my moms car and Tom's old collar fell into my hands and I was shocked. I just grasped it in both my hands and then naturally took a picture of it. Read about Tom here.
I miss having a puppy around. But I need to have a home and a life. I don't have those things right now. It's ahead of me. It's part of my intention. I gave all that up 3.5 years ago for a new adventure and have been virtually lost since then.
Now, the only plus has been my bf and many of the people I have come to know in San Francisco. I need something more though and not sure where to find it.