I never thought reading self-improvement books would be something I would do. But, if you read a lot of my past posts you can see where I have been dealing with a lot of issues.
I swear I was going to work on more positive things for myself… specifically focusing less on the negative. Seems when I am feeling cracked out or struggling with life's issues coming here seems like a solution.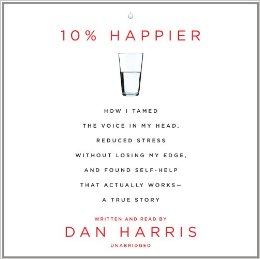 I read "How to Make Friends and Influence People" by Dale Carnegie. I was half way through the second read on it when I discovered "10% Happier" which so far has been a real mirror. It was written and read through Audible.Com by Dan Harris; an ABC News Anchor. Weird how so much of what he has to say has hit home with me. My world has been quite the roller coaster in recent years.
Don't get me wrong, don;t get me too right either, but this seems to be a big year of transformation for me and this might be the best catalyst I have added to my tool belt so far. This site will take on new shape, too, soon.
Who is reading this stuff? Who is paying attention? I know I had followers a long while back but I dropped the ball on this site a while and I think a lot of people fell off. So I am curious who is around.